Conveyor Guard Mesh Specs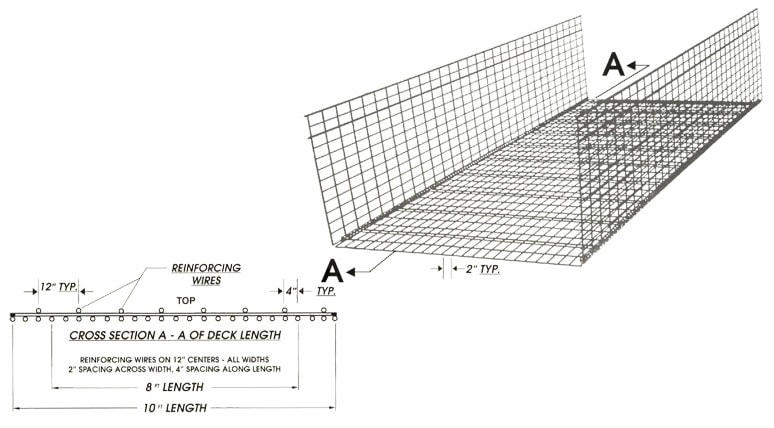 Conveyor Guard Mesh
COMMON CARRIER SHIPMENTS EXCEEDING 7'-6" IN WIDTH MUST BE MADE IN TWO PIECES, ASSEMBLED, AND FOLDED FOR SHIPPING BY CONTRACT CARRIER. FLAT BED TRAILERS SHIPMENTS ALLOW ONE PIECE DECK AVAILABILITY IN 2" INCREMENTS UP TO AND INCLUDING 16' WIDE IN 8' LGTHS AND 8' WIDE IN 10' LENGTHS.
GUARD SECTIONS ARE SHIPPED ASSEMBLED WITH SIDES HELIXED TO DECK. CONNECTING HELIX, CUT TO DECK WIDTH AND SIDE HEIGHT, IS INCLUDED.
CLIPS FOR ATTACHING SIDE PANEL TO VERTICAL HANGER ANGLE ARE INCLUDED FOR EITHER 1 1/2" X 1 1/2" (S), 2" x 2"(M), 2 1/2" X 2 1/2" (L), 3" x 3" (XL) IF REQUIRED. SIZE MUST BE SPECIFIED
TYPICAL CROSS SECTION OF SIDE PANEL.
VERTICAL WIRES ON 4" CENTERS.
HORIZONTAL WIRES ON 2" CENTERS.